Meeting in Portugal: 14 - 18 March 2022
Project "Be Smart in Today's European Digital World" During the week of March 14 to 18, the II Short Term Mobility Meeting under the Erasmus+ KA2 Project "Be Smart in Today's European Digital World" take places, hosted by Escola Profissional de Salvaterra de Magos (EPSM). Representatives of the partner schools from Germany (Berufskolleg des Kreises Olpe), coordinator of the project, Italy (I. I. S. Leonardo da Vinci - Fascetti) and Romania (Liceul Matei Basarab - Craiova) developed the work foreseen in the agenda, with particular emphasis on learning strategies with the internet, promoting digital literacy. The main objectives are to promote the ideals of youth exchange in the European space and to stimulate skills in several areas, namely those foreseen in the curricular plan of the different courses and those expressed by the principles and values of the students' integral formation.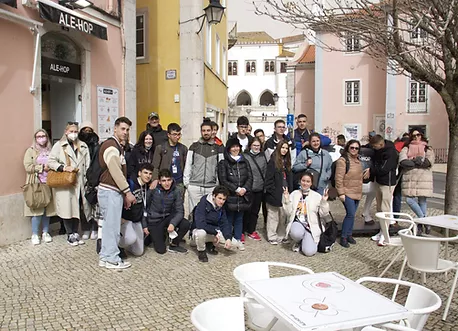 A Portuguese Welcome The initiatives, scheduled, from the 14th to the 18th March, also include cultural proposals, with the appreciation of the tangible and intangible heritage of the region and the country, since the use of new technologies allowed EPSM students to prepare and promote visits to places like Escaroupim, Sintra and Lisbon. It was possible to find contexts with a language closer to young people, which allows breaking down the communication barriers, based on challenges as thematic Peddy Paper, Photographic Safari, the introduction of recreational tools such as Minecraft for the consolidation of skills, the creation of this site for the meeting and the construction of a prototype with an electronic circuit. Due to the specificity of the theme, the project includes, on the part of EPSM, students from the Communication - Marketing, Public Relations and Advertising, Electronics, Automation and Control and Computer Management courses, totalling 180 students.